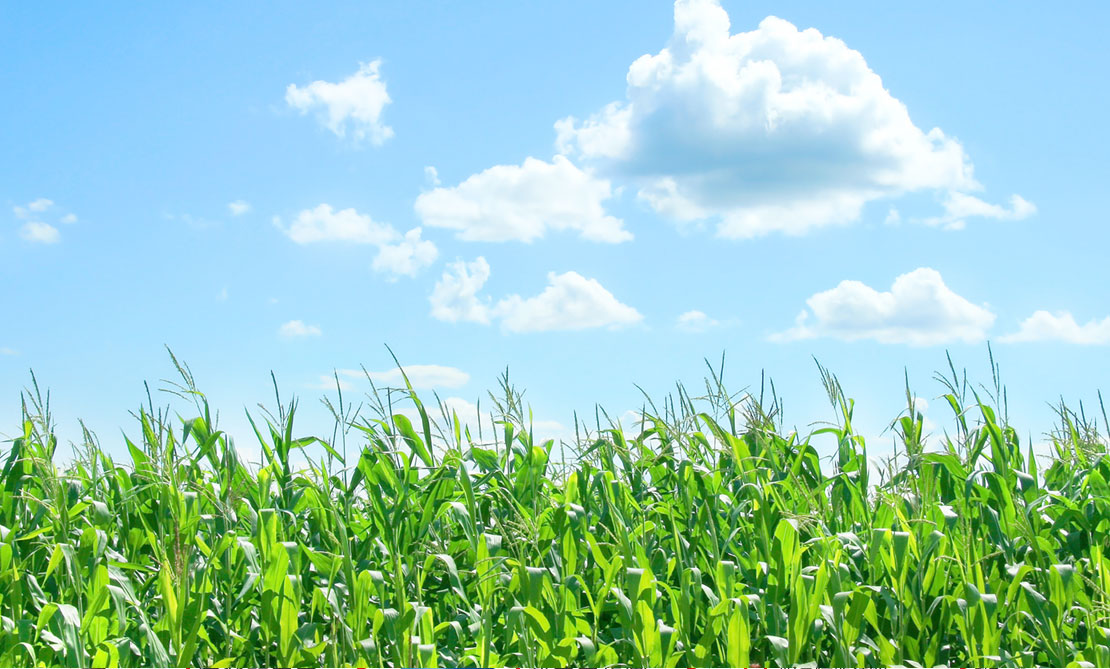 Investor Relations
Information to help investors gain a deeper insight into who we are
Overview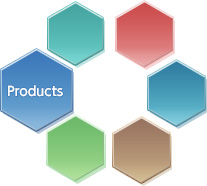 We operate six business segments. Here, more details will be provided about the sales and core products of each segment.
Introduction of segments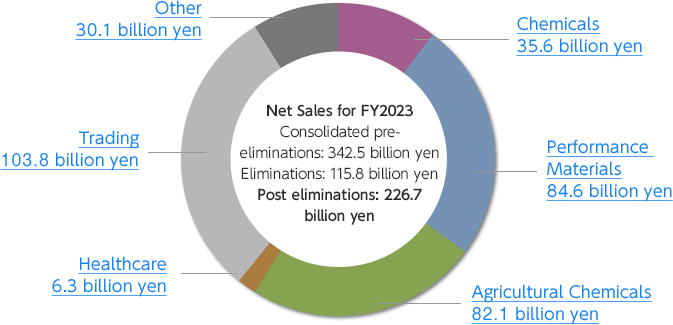 We offer the following products
Basic Chemicals - AdBlue® (high-grade urea solution)
AdBlue® is a solution of urea in demineralised water used as an operating fluid in diesel-powered freight trucks to improve harmful emissions (nitrogen oxide). This product is expected to see an increase in demand because in the future it will be used in construction and agricultural equipment due to more rigorous environmental regulations.
*AdBlue® is a registered trademark of the Verband der Automobilindustrie (VDA).

Click here to learn more about our basic chemicals
Fine Chemicals - TEPIC®
TEPIC® is an epoxy compound with excellent heat resistance, outdoor durability, and transparency. TEPIC® is used as a curing agent for powder coatings as well as in semiconductors, LED, and substrate related electronic material applications.

Click here to learn more about our fine chemicals
Display Materials - SUNEVER®
SUNEVER® is a coating for liquid-crystal glass to align the liquid crystal molecules in a certain direction. This material has seen a robust increase in sales in recent years thanks to the growth of the smartphone and tablet PC markets.

Click here to learn more about our display materials
Semiconductor Materials - ARC®coating
ARC®coating is used in the semiconductor manufacturing process as a bottom anti-reflective coating developed for semiconductor lithography. It solves various problems with exposure in the lithography process by coating under photo resist products.
*ARC® is registered trade mark of Brewer Science, Inc.

Click here to learn more about our semiconductor materials
Inorganic Materials – SNOWTEX®
SNOWTEX® is a colloidal solution in which water is used as a dispersing media to breakdown ultrafine silicon dioxide molecules in water. Offering superior transparency and heat resistance, among other functions, SNOWTEX® is used in a wide range of applications, including in coating materials for optical films and polishing agents for electronic substrate materials.

Click here to learn more about inorganic colloids
Agricultural Chemicals – ROUNDUP MAXLOAD®
ROUNDUP MAXLOAD® is a dominant brand of non-selective herbicide that enjoys the top sales in Japan's agricultural chemicals market. ROUNDUP® is available in diluted type and shower type product lines, contributing to a more comfortable living environment for general consumers.

Agricultural Chemicals – ALTAIR®
ALTAIR® is a paddy rice herbicide that has demonstrated great effects against problem weeds, including perennials. Moreover, ALTAIR® is a next-generation ALS* inhibitor that not only kills the top of weeds, but also stops their roots from growing. (*A formation of amino acids)

Click here to learn more about our agricultural chemicals
Private Drug Discovery - LIVALO® (Pitavastatin calcium)
Pitavastatin calcium is an active pharmaceutical ingredient that inhibits cholesterol synthesis in the liver and powerfully decreases cholesterol in the blood stream. LIVALO® is used to treat patients with high cholesterol and other illnesses. In Japan it is distributed by Kowa Pharmaceutical Co. Ltd.

Click here for our proprietary pharmaceuticals
Custom Chemicals
We engage in an R&D participation-focused active pharmaceutical ingredients and intermediates business. We are contracted to carry out various processes, from pre-clinical trials to commercial production, including the manufacture of active ingredients and intermediates as well as process research.

Click here to learn more about finetech
Trading and Others
We also engage in the trading business, landscaping business, logistics business, engineering business and fertilizer business.