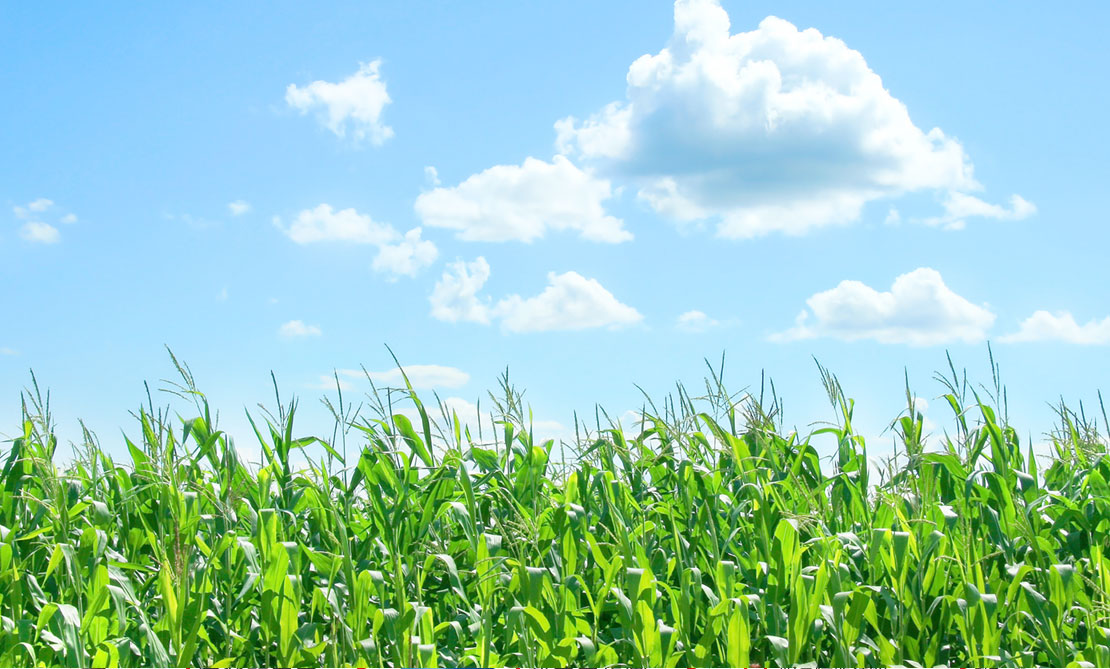 Sustainability
Provision of New Value for Helping to Enrich People's lives
HOME >
Provision of New Value for Helping to Enrich People's lives >
Contribution to Communities and Society
Contribution to Communities and Society
Policy/Philosophy
"The Sustainable Development Goals (SDGs)" were set out at a "UN Sustainable Development Summit" in September 2015. They consist of 17 goals and 169 targets that need to be addressed globally by the year 2030 in order to safeguard the human race and the planet, as we continue to work towards enriching all of our lives.
Based on the SDGs, UN member countries are required to make an effort to achieve goals in areas such as poverty, hunger, energy, climate change and peace by the year 2030. Companies are also expected to make a contribution.
We recognize that creating a sustainable society is essential for the growth and development of the Company. As a corporate citizen, we engage in a range of social contribution activities in addition to providing products and services with new values that help enrich people's lives.
Social Contribution Policy
Nissan Chemical Group set a policy on social contribution based on our corporate vision "A corporate group that contributes to human survival and development" in order to proactively participate in society and contribute to the sound and sustainable development of society.
Nissan Chemical Corporation founded under the spirit "to dedicate ourselves to prosperity of the nation by agricultural fertility" aiming to solve food issues in 1887. Since its then, the Company has been pursuing innovative technologies and currently, provides high-quality / high-performance products and services globally in the four business fields of Information & Communication, Life Sciences, Environment & Energy and Chemicals & Affiliates. We will fulfill our social responsibilities through the technologies we have cultivated over the past century and through our products and services that contribute to social development and environmental conservation.
To bear fruit, we focus on the following 4 points as our global bases serving and will promote the creation of circumstances that make it easier for Group employees to participate. At the same time, we will raise awareness of our commitment to participating actively.
(1)

Promotion of Education, Science and Culture
We will contribute to the promotion of culture by fostering youths who will be responsible for future creation, and by actively supporting the next generation of academic research

(2)

Community Contribution
We will contribute to the development of local communities through activities rooted in them while respecting the cultures and customs of each region. In addition, in the event of a large-scale disaster occurring in Japan or overseas, we will promote social contribution activities that meet the needs of the affected areas by utilizing our management resources.

(3)

Global environmental conservation
We will contribute to the realization of a sustainable society by taking the initiative in using limited resources carefully and conserving the global environment.

(4)

Promotion of Health and Welfare and Sports
As a company focused on businesses related to healthcare and the living environment, we will contribute to the promotion of health and welfare and sports in order to improve the quality of life (QOL).
Date of Establishment: April 1, 2020
Activitie
Support for the Next Generation
Fostering Globally Competitive Individuals
International Chemistry Olympiad
We support the 53rd International Chemistry Olympiad held in Japan in 2021. At this event representative high school students not only compete for chemical knowledge, but also deepen international exchange through program called Excursion. By supporting this event, we contribute to the development of global human resources who will lead the next generation in the academias and chemical industries.

Tobitate! (Leap for Tomorrow) Young Ambassador Program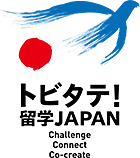 We have been involved with the "Tobitate! (Leap for Tomorrow) Young Ambassador Program", a joint government-industry project for supporting students who wish to study overseas since FY2015. This program is aimed at fostering globally competitive individuals who will demonstrate their capabilities on the world stage in the future. Japanese companies make donations and regularly in cooperate with student selection and other processes as judges to send high school and university students, who are the potential future leaders of Japan, to various parts of the world.
Fostering Female Researchers
We participated in the event, "Summer Riko-Challe" for the first time in 2017. This event cohosted by the Cabinet Office, the Ministry of Education, Culture, Sports, Science and Technology and Keidanren (the Japan Business Federation) is aimed at arousing interest in and promoting understanding of careers in the field of science and technology among female students. Thirteen female junior high school students from Saitama and other prefectures participated in the work experience at the Biological Research Laboratories and the exchange meeting with female researchers to deepen their interest in science and engineering.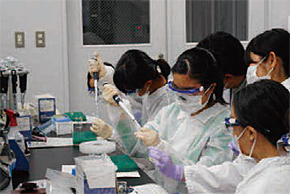 ▲Summer Riko-Challe at Biological Research Laboratories
Visiting Lecture to Elementary School and Internship Acceptance
We provide a various support activities for the next generation. Employees visited to elementary schools near the Chemical Research Laboratories and the Materials Research Laboratories for classes. At the Biological Science Laboratories, junior high school students had a work experience. Plants and laboratories accepted interns and dispatched part-time lectures.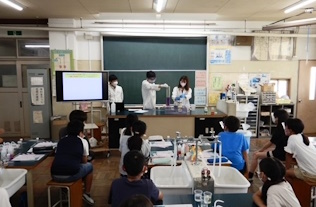 ▲Internship at Sodegaura Plant
Interaction with Local Residents
We hold plant tours and explanatory meetings on regular basis for local residents and schools. During these meetings we explain our initiatives for disaster prevention and environmental protection in an effort to show that the plants are safe and secure. We also participate in local beautification activities such as cleaning of public roads and nearby stations around the plants, and activities for planting flowers together with local residents.
TOPICS:Cherry blossom festival at Onoda Plant
Onoda Plant takes place a Cherry blossom festival every year to develop the deep and warm personal relationship with local residents. This festival marked the 27th on April 7, 2018 since Onoda Plant started the event in 1990. Everyone was able to feel a sense of unity with the enthusiasm of staff of Onoda Plant through a variety of hand-made programs. It blew out the cold though it was slightly chilly day.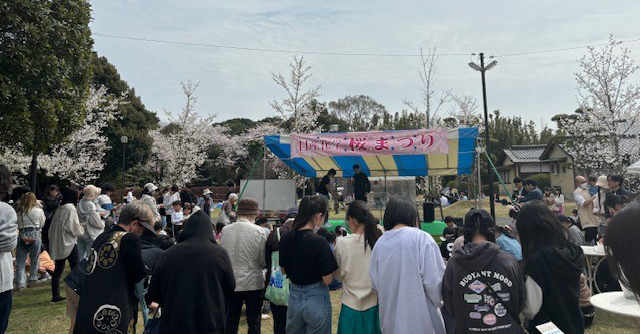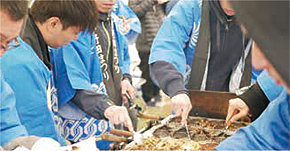 Reconstruction Support for Large-scale Disaster
Reconstruction Support for the Tohoku-Pacific Ocean Earthquake (The Great East Japan Earthquake) in 2011
We donated 40 million yen to support reconstruction activities of the victims and the areas stricken by the disaster. The donation is composed of 30 million yen from Nissan Chemical Industries, Ltd. and 10 million yen from the fund accumulated by the Nissan Chemical group and its employees to meet social responsibility and welfare.
Reconstruction Support for the Kumamoto Earthquake in 2016
We donated 5 million yen through the Japanese Red Cross Society to support reconstruction activities of the victims and the areas stricken by the disaster.
Reconstruction Support for the Heavy Rain Disaster Associated with Typhoon No. 7 in 2018
We donated 5 million yen through the Japanese Red Cross Society to support reconstruction activities of the victims and the areas stricken by the disaster.
Support for Combating COVID-19 in 2020
We donated 3 million yen to the Tokyo Metropolitan Government's Donation Fund for "Protection of Tokyo and Medical support against COVID-19 by purchasing Materials for Frontline Medical Workplaces".
Welfare Fund
As a part of our activities for contributing to local communities, we have been engaged in "Welfare Fund" activity with our employees since 1997. In these activities, there are cases where staff members in each office, plant and laboratory ask local welfare facilities what items they need before considering what to donate. Overall, these activities are carried out in a community-based manner.
The employees make a certain amount of contribution to the reserve funds from their salary every month, and the company also adds the same amount when making a donation. In FY2019, we donated a total of approximately 11.3 million yen to 31 organizations.
We will continue our efforts to contribute to local community through the Welfare Fund.