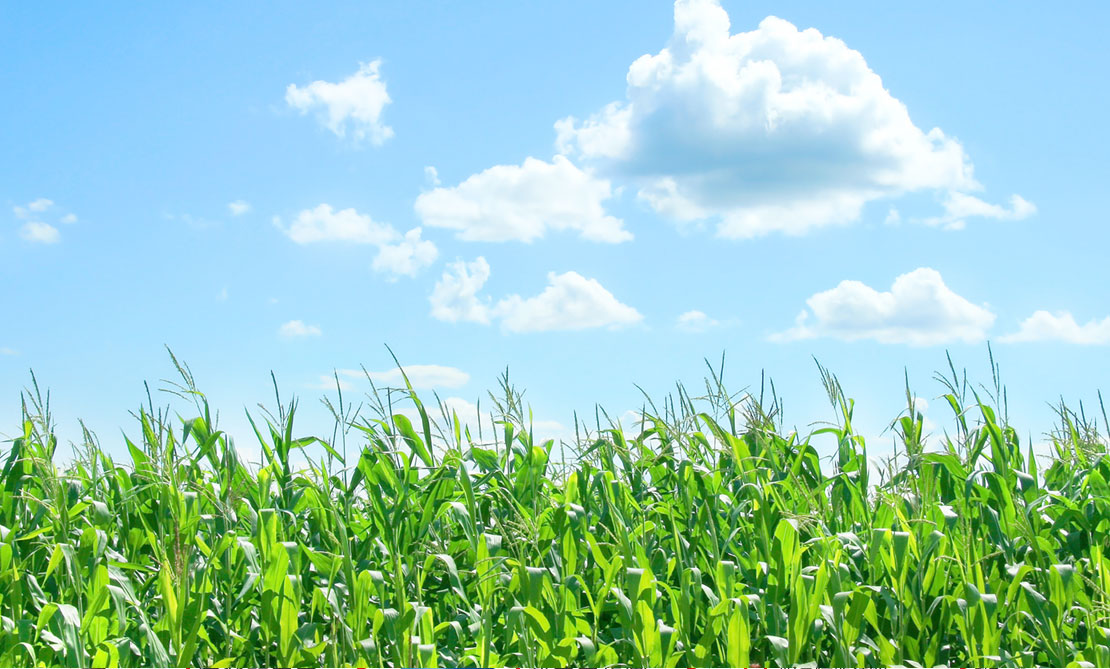 CSR
Responsible Care (RC) Activities
HOME >
CSR >
Responsible Care (RC) Activities >
Environment Safety and Climate Change Strategy >
Control of Exhaust Gas and Waste
Control of Exhaust Gas and Waste
Control of Exhaust Gas
We control exhaust gas by observing the discharge standards stipulated in "the Air Pollution Control Act" and regulatory values based on agreements with local communities. We maintain the proper conditions in our desulfurization facilities and denitrification facilities in an effort to control the emissions of air pollutants such as sulfur oxide (SOx) and nitrogen oxide (NOx).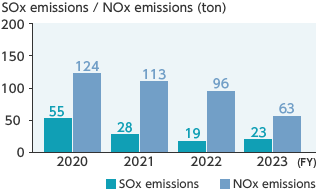 Reduction of Emissions of VOCs
We regularly take initiatives to reduce emissions of volatile organic compounds (VOCs), which cause the formation of photochemical oxidants. We have not emitted any 1,2-dichloroethane into the atmosphere since 2006 due to the introduction of VOC eliminators and other initiatives. Our emissions of other VOCs (benzene and formaldehyde) have also remained at around 25% of the level of 2006 and earlier. In FY2016, our emissions of benzene were reduced further because we changed the fuel and feedstock for manufacturing ammonia from naphtha to natural gas.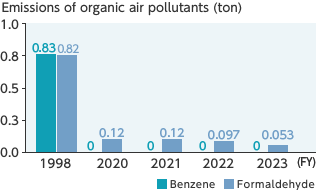 Reduction of Waste
We thoroughly implement control measures to ensure the proper disposal of waste, while also striving to reduce industrial waste. We introduced the PBasis from Panasonic ET Solutions Co., Ltd. as the legal compliance system for waste. We also applied electronic manifests.
Waste water discharged in the manufacturing process accounts for the majority of our industrial waste. We treat this waste internally by means of combustion. The amount of waste generated began to rise in FY2014 due to an increase in the production volume of organic fine chemicals and flame retardants attributed to their new uses. As for solid waste, we reuse sludge as feedstock for the base course material of roads and cement. In addition, at the Toyama Plant, we promote the recycling of waste plastics and the conversion of such plastics to valuables, and we have changed the method of their intermediate processing. As a result, the final disposal volume was reduced by half from FY2015. We have set a goal of reducing the final disposal volume to 800 tons by FY2020.