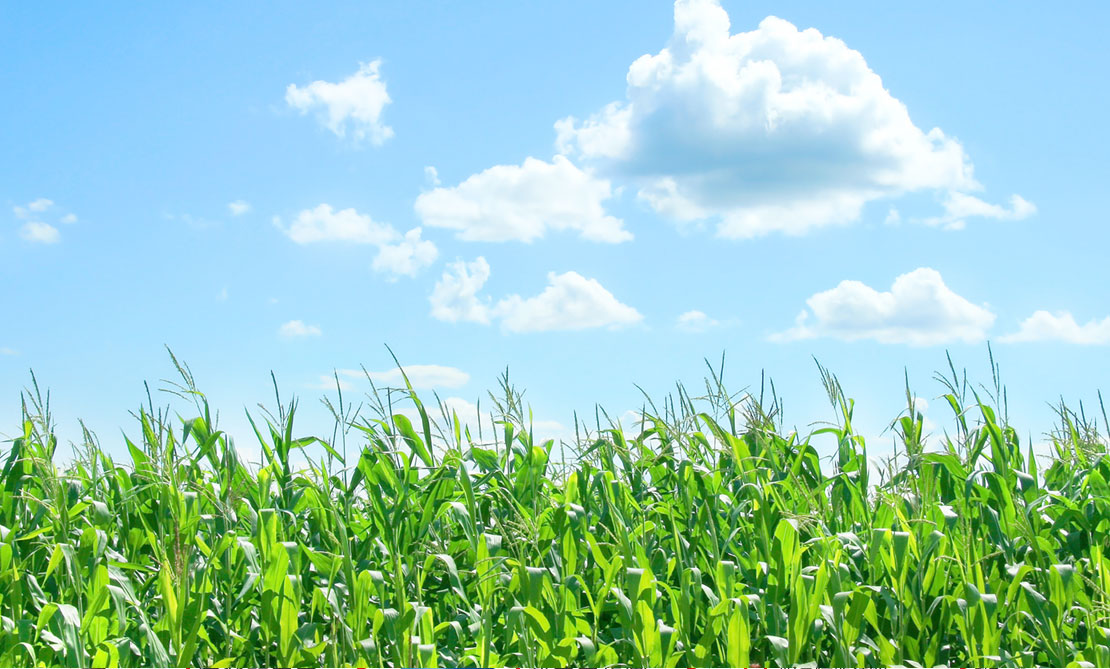 CSR
Responsible Care (RC) Activities 
Biodiversity Conservation
At Nissan Chemical, we are fully aware of the fact that biodiversity serves as an important foundation for sustainable society in the future. As a member of international society, we intend to promote activities that contribute to biodiversity conservation by sharing roles and responsibilities with all the people and working together with them. For this purpose, we have established the "Nissan Chemical Biodiversity Action Guidelines".
In addition, in October 2015 we participated in the Japan Business and Biodiversity Partnership to promote our initiatives for biodiversity.

Nissan Chemical Biodiversity Action Guidelines
Our corporate philosophy is "We contribute to society in harmony with the environment, based on our excellent technologies, products, and services." We at the Nissan Chemical Group engage in business activities that take into account biodiversity and help protect the global environment.
We will understand, analyze, and evaluate the impact of our products on biodiversity throughout their lifecycle and strive to reduce the impact. We will work to preserve biodiversity and ensure the sustainable use of biological resources.
We will strive to raise each employee's awareness of biodiversity through responsible care activities.
We will continue to carry out social contribution activities that help preserve biodiversity and earn us the high esteem and trust of society.
We will disclose the results of these initiatives to deepen the level of communication with society.
Our Biodiversity Initiatives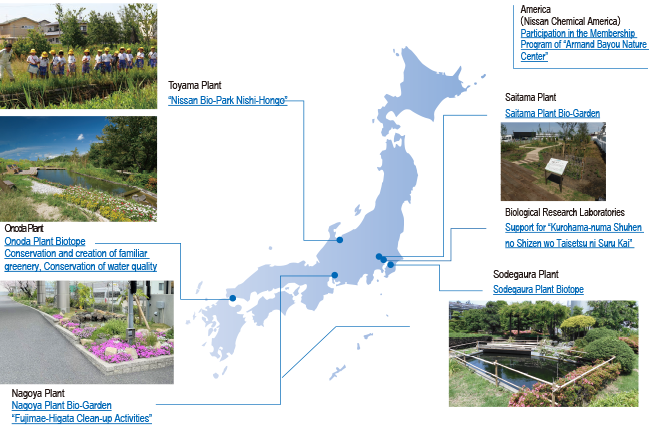 Nissan Bio-Park Nishi-Hongo
The development of the Nissan Bio-Park Nishi-Hongo, which is operated by the Toyama Plant and received the RC Grand Prix Award from the Japan Chemical Industry Association in 2014, began about 10 years ago on a plot of approximately two hectares of land. It has turf areas, a wetland, a pond, and a creek. Firefly larvae were released in the park as part of the Hotaru Koi Project, an initiative which aims to nurture Japanese fireflies.
The pond is used for breeding Japanese rice fish, an endangered species. It also serves as a balancing reservoir in the event of flooding. Tulips, sunflowers, Japanese cherry trees, Japanese beech trees, and other plants are planted in the park, which also has tables for cherry-blossom viewing. The Bio-Park Support Team, which is made up of former employees of Nissan Chemical, is working together with a group that manages the adjacent flower field to achieve the main objective of the Nissan Bio-Park Nishi-Hongo, which is to "create spaces with biodiversity, mainly waterfront and community-based forests, to provide places where employees of the plant and local residents can relax."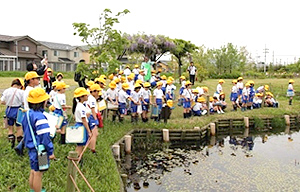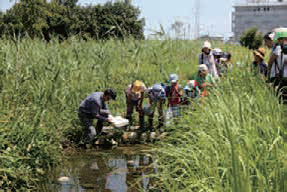 Fujimae-Higata Clean-up Activities
The Nagoya Plant participates in clean-up activities organized by groups such as the Fujimae-Higata wo Mamoru Kai, an NPO engaged in activities for protecting Fujimae-Higata tidal flat. A tidal flat plays an important role as an ecosystem for food chains of living organisms and natural purification. The clean-up activities aim to maintain the tidal flat as an asset. Fujimae-Higata, a tidal flat in Nagoya Port, is one of the largest stopovers for migratory birds in Japan and a wetland registered under the Ramsar Convention.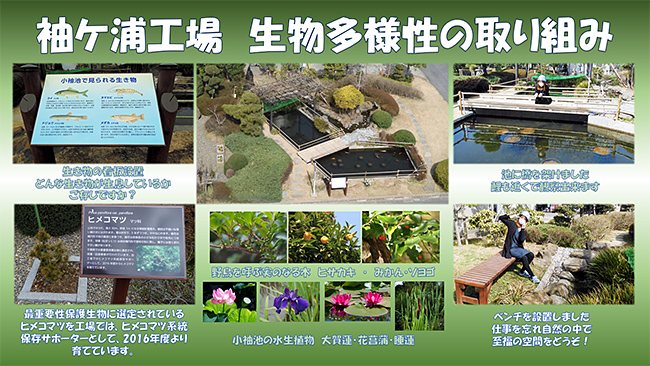 Support for "Kurohama-numa Shuhen no Shizen wo Taisetsu ni Suru Kai" and Dialogues with It
In FY2016, we began to support "Kurohama-numa Shuhen no Shizen wo Taisetsu ni Suru Kai (Society for Cherishing the Natural Environment around Kurohamanuma Pond)", an NPO in Hasuda City, Saitama. For many years, this organization has been engaged in activities for conserving the biodiversity of the area around Kurohamanuma Pond, which is designated as the No.11 Land for Conservation by Trust (Trust Hozen 11-gou chi) by the Saitama Greenery Trust Association of Saitama Prefecture. Its activities have resulted in numerous achievements, including success in growing Carex capricornis and other endangered species. On the other hand, it faces multiple urgent issues such as the drying up of the pond and the reduction of rare species of plants and animals attributed to the propagation of alien species such as willow and red-eared sliders. The NPO also contributes to the environmental learning of local elementary and junior high school students. We are favorable with these continuous, locally based activities for protecting biodiversity and decided to give a donation to this NPO every year.
Representatives from our CSR & Public Relations Office, Environment, Safety & Quality Assurance Department and Biological Research Laboratories visited the environmental learning center (Kankyo Gakushu-kan) in Hasuda City, which is managed by the NPO, observed its activities in the area around Kurohamanuma Pond, and then exchanged opinions with the NPO concerning activities of the NPO and the company, issues on biodiversity conservation, expectations for business enterprises and other aspects.

Participation in the Membership Program of Armand Bayou Nature Center
Nissan Chemical America Corporation participated a corporate membership of Armand Bayou Nature Center (ABNC).
ABNC is one of the largest urban wilderness preserve in the U.S. ABNC contains 2500 acres of the natural wetlands forest, prairie and marsh habitats once abundant in the Houston/Galveston area. ABNC is home to over 370 species of birds, mammals, reptiles and amphibians. The Center's stewardship programs ensure that future generations have the opportunity to experience a wilderness close to home. ABNC's educational programs promote the value of preservation and conservation of natural resources. These programs also encourage everyone to incorporate ecological concepts into their daily lives.