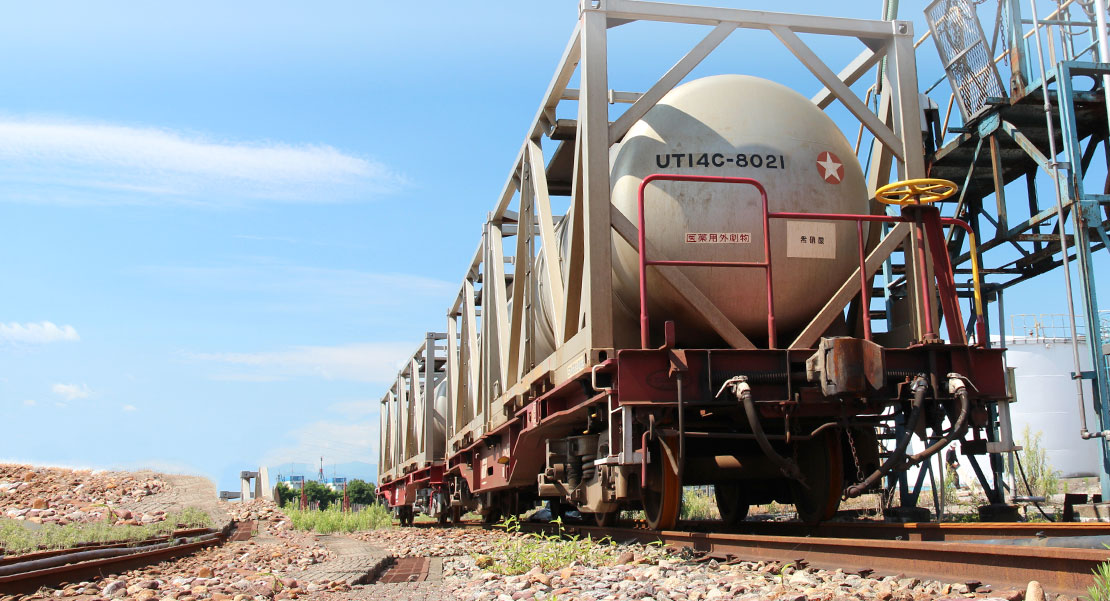 Overview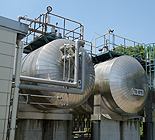 Storage tank
Basic chemicals operations are continuing to expand around the development of industrial chemicals such as melamine, sulfuric acid, nitric acid and ammonia as well as concrete and civil engineering-related products such as melamine-based superplasticizer "SMF", antifreezing agent and inhibitor "CANI" and repairing agent "LN".
We are proud that the production of melamine has reached a scale that ranks at the very top, both domestically and overseas. In response to external influences such as the soaring price of raw materials, we are attempting to build a more robust business system and a more effective production system for melamine and our other industrial chemical products.
Nissan Chemical has also made great strides in the production and supply of products for cutting edge fields of technology, with our high-purity sulfuric acid, nitric acid and ammonia products being marketed as semiconductor cleaning agents that demand the highest levels of purity. In addition, a production and supply system was established for high quality urea in 2005, and sales of our AdBlue® product for diesel vehicle exhaust gas treatment have already begun.
Main Products
MELAMINE

Melamine is widely used as an adhesive agent for plywood, laminated sheets, molded products, resin finish for fabric, paper and paint. It has high-level aesthetic properties and substantial quality. We are proud of our first-class production ability and our unique high-pressure method process and alsoto be supplying products throughout the overseas markets.

AdBlue®

AdBlue® is a solution of urea in demineralised water used as an operating fluid in diesel-powered freight trucks to improve emissions. To promote this unique product, we are now expanding our original supply system for domestic market.
*AdBlue® is a registered trademark of the Verband der Automobilindustrie.
HIGH PURITY
CHEMICALS

Agents used for semiconductors/LED require extremely high purity. We provide sulfuric acid, nitric acid and ammonia to this industry, receiving high acclaim in the process.

Other Main Products

Ammonia-related products:
…Ammonia, nitric acid,ammonium bicarbonate, etc.
Sulfuric acid-related products:
… Sulfuric acid, sulfamic acid etc.
Concrete and civil engineering-related products:
… SMF, CANI (Ca(NO2)2), LN (LiNO2).
Contact Us
Handling division
Chemicals Division Basic Chemicals Department