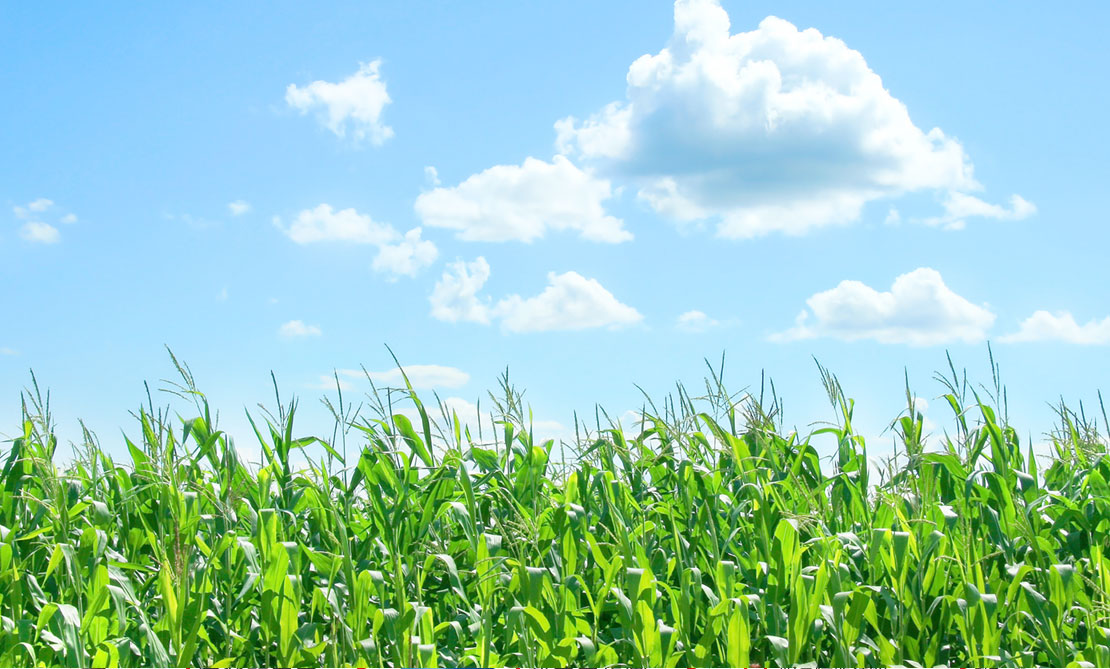 Sustainability
Sustainability
HOME >
Sustainability >
Materiality and SDGs
Materiality and SDGs
Our Group has identified the materiality needed to realize our corporate vision in 2030 to become "A corporate group which provides new values for helping to enrich people's lives by integrating internal and external knowledge with facing globally-changing society" and "A group of first-class pioneers who blaze a way to the future with enthusiasm by trusts they have built and skills they have cultivated".
Process of Materiality Identification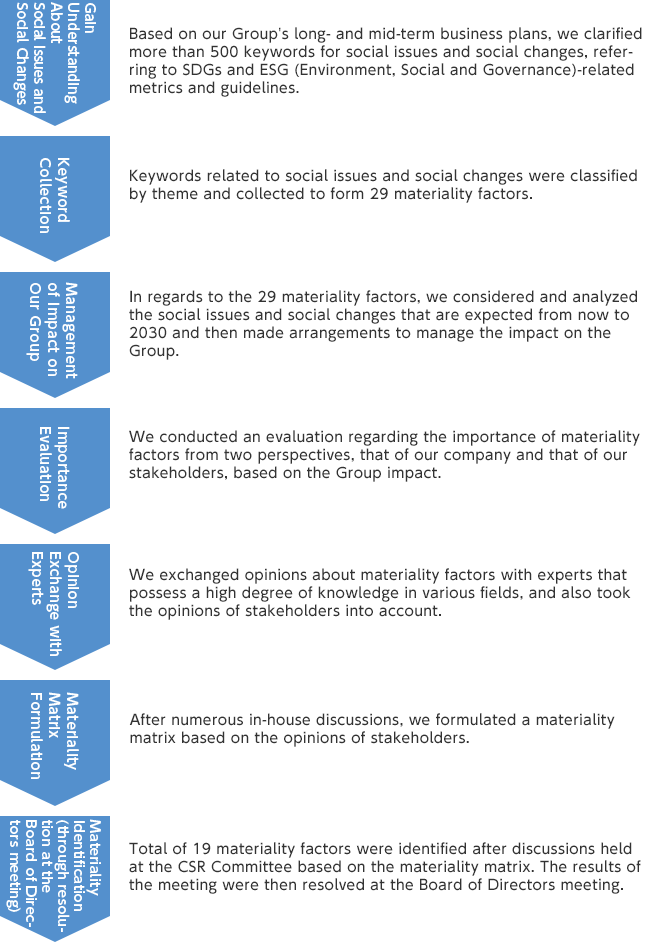 Comments from Experts
One Akiyama
President
Integrex Inc.
・It is important to organize what should be done specifically to make the company how we want it to be by identifying materiality. Therefore, it is important to involve employees, people who are actually involved in making improvements, so that they can think about where their company is headed and what they can do for their company on an individual level.
Hiromi Sakazume
Professor, Faculty of Lifelong Learning and Career Studies
Hosei University
・As the shortage of human resources in Japan worsens, companies are required to support the growth of people who are willing to work. It is important for top management to proactively create messages regarding diversity promotion, and to analyze and evaluate whether human resource related efforts are leading to improved employee performance.
Hitoshi Suzuki
Advisor
Institute for International Socio-Economic Studies
・Human rights are an important theme of significant global interest which is also the starting point for SDGs. When examining human rights initiatives, the first step is to identify human rights related risks from a company's value chain perspective and stakeholders' perspective. After evaluating the importance of the identified human rights related risks, it is necessary to discuss how to respond to each risk in business processes.
Masao Seki
Professor (non-tenured), School of Business Administration
Meiji University
・Goal of SDGs is to transform (innovate) the society. It is important to backcast from what the company should be like in 2030 and consider what must be done in the present.
・Climate change affects a wide range of fields such as agriculture and health, and is also an issue related to human rights. An approach from the perspective of adaptation to climate change can effectively contribute to SDGs.
Kae Takase
Senior Manager
Kyoko Narita
Senior Manager
CDP Worldwide-Japan
・Due to the fact that institutional investors, including pension funds in the US and Europe, have a deep interest in climate change, it is important to show concrete goals and results related to climate change.
・It is important not only to reduce your company's own greenhouse gas emissions, but also emissions through the supply chain.
Note: Listed in no particular order. Affiliations and positions current as of time of opinion exchange.
Materiality Matrix


Efforts for Materiality and KPIs
Materiality
Factor
Our Initiative
FY2021 Target
FY2020 Result
Relevant SDGs
Provision of new value for helping to enrich people's lives


Contribution to health issues
Creation of pharmaceuticals that meet medical needs and biomedical materials that contribute to advanced medical care
License out candidates of drug agents
Started investigator-initiated clinical trial of anti-arrhythmic agent
Established basic technology for nucleic acid drug discovery
Launch of new medical materials
Keio University acquired approval for a clinical study of severe heart failure using cell clumps formed in prevelex®-coated containers
Supply of environmentally friendly products and services
Sale of high-grade urea solution for exhaust gas purification of diesel vehicles
Development of energy harvesting materials that contribute to the utilization of unused energy
Launch of new environmentally friendly products
Organic thin film solar battery materials: Promoted overseas development
Secondary battery materials: Focused on the development of next-generation battery materials
ORGABEADS®: Promoted development as a substitute for micro plastic beads
Contribution to the improvement of the quality of life
Research and supply of veterinary pharmaceuticals for companion animals and sales of disinfectants for drinking-water
Number of people positively impacted by the sales of disinfectants for drinking water: 2.5 million per year
1.1 million per year
Contribution to smart society
Development of sensor materials required for IoT and wiring materials that contribute to higher capacities and speeds of data communications
Expanded adoption of sensors and semiconductor packaging materials/Adoption and launch of materials for optical communications
Lens materials for CMOS: Sales continued to strongly increase
Semiconductor packaging materials: Continued creating a lineup of new materials offered along with our existing materials
Optical interconnect materials: Final evaluation underway for adoption
Contribution to the food issues
Supply of agrochemicals to increase crop yields and conserve agricultural labor, and the expansion of veterinary pharmaceuticals to livestock
Achieving 10% higher sales of agrochemicals than in FY2018
9.8% higher than FY2018
Strengthening of Nissan
Group's business base


Enhancement of R&D capability
Deepening core technologies, promotion of open innovation, and introduction of new technologies such as AI
Reaching 1,350 patent applications in three years by FY2021
Cumulative number of patent applications since FY2019: 841 (FY2020: 415 patent applications)
Improvement of products quality
Continuous improvement of management systems and operations based on quality policy
Achieving 80% outsourcer audit rate in three years by FY2021
49%
Maintenance and improvement of employees' health
Review of health promotion measures by the health promotion committee and mental health checkups
Consecutively acquiring White 500 certification
Acquired White 500 certification for five consecutive years from FY2016
Creation of a comfortable workplace
Promotion of work-life balance, measures against harassment, and support for childcare and family care
Achieving ratio of taking annual leave of 80% or higher
71.0%
Personnel retention and trainings
Provision of educations and capability trainings, and introduction of overseas study program
Achieving 10% more job training time per employee than in FY2017
11 hours of training: All online, training enhanced through content revisions (11 hours in FY2017)
Promotion of diversity
Promotion of active participation of women, hiring foreign students and people with disabilities
Achieving proportion of females among employees in the regular position of 10%
10.2%
Promotion of fair-trading
Implementation of internal training on the "Act against Delay in Payment of Subcontract Proceeds, etc. to Subcontractors" and the insider trading regulations
Holding consultation meetings with Legal Office throughout the Group by FY2021
62%
Promotion of CSR procurement
Conduct of assessment and audits of suppliers on CSR
Achieving CSR questionnaire survey coverage of 90% (in terms of monetary amount)
84%
Adaptation to climate change
Formulation of BCPs to prepare for the plants' inability to operate due to natural disasters
Formulating BCP where products account for 50% of ordinary income
Formulated BCP where products account for 76% of ordinary income
Continuous improvement of
responsible care activities


Mitigation of climate change
Energy saving through equipment improvement and fuel conversion that leads to GHG (Green House Gas) emissions reduction
GHG emissions: Reducing by 20% from FY2013 level
Energy consumption rate: Improving by 20% from FY2013 level
GHG emissions: Reduced by 31% from FY2013 level
Energy consumption rate: Improved by 24% from FY2013 level
Promotion of occupational health and safety
Establishment of an occupational safety management system and execution of capital investment in safety
Achieving zero accident requiring staff time off from work
One accident occurred requiring staff time off from work
Biodiversity conservation
Operation of Bio-Park and support for the NPO "Kurohama-numa Shuhen no Shizen wo Taisetsu ni Suru Kai"
Achieving 100% initiative for prefectures in which our Head Office, plants, and laboratories are located
83%
Management of chemical substances
Minimization of negative impacts on human health and the environment throughout the life cycle of chemical products
Creating safety summaries of chemical substances of products that account for 90% of our total production
87%
Reduction of industrial waste and pollutant emissions
Reduction of the amount of waste for final disposal volume by reusing and recycling waste and changing intermediate process methods
99.5% or more recycling rate
Achieving 75% reduction of exhaust gas (SOx + NOx) emissions compared to FY2013
Recycling rate: 97.3%
Exhaust gas (SOx+NOx) emissions: Reduced by 66% from FY2013 level