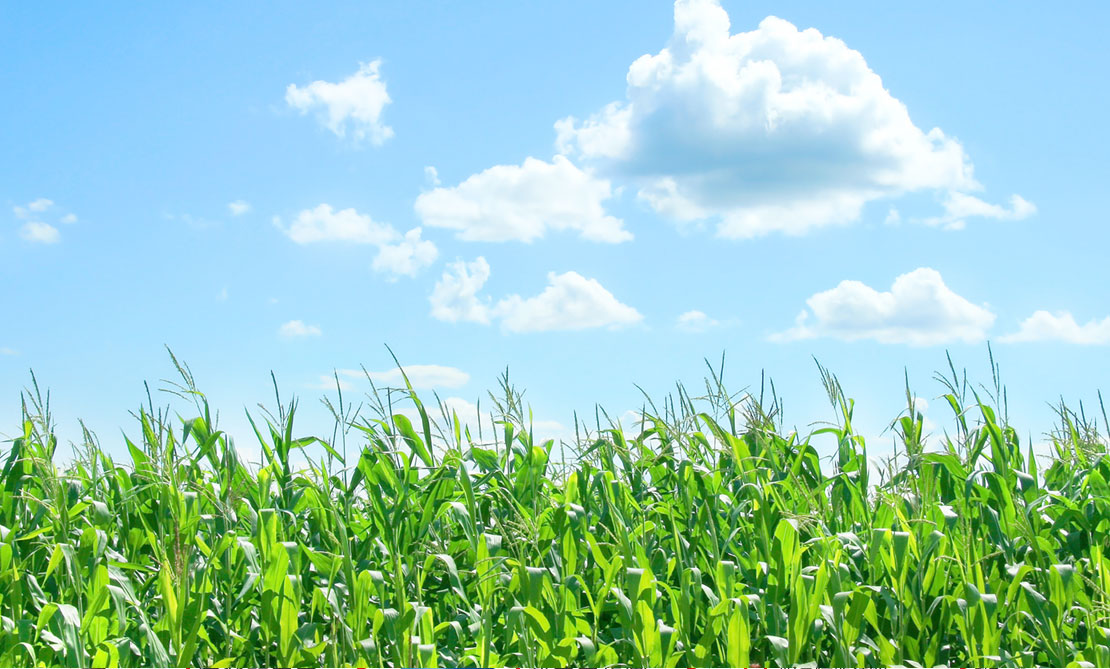 CSR
Strengthening of Nissan Group's business base
Personnel Retention and Trainings
Policy/Philosophy 
We believe it is essential for human resource development that "each employee should continue to educate themselves voluntarily in their efforts to develop themselves." Therefore, we have established various human resource development programs for our employees who aspire to learn new things and develop themselves. However, no matter how many programs are established, they have no meaning if they are not utilized. Individuals must grow through programs. And self-directed individuals must work together with people from other departments, people with different job titles, etc. to grow further. We believe that a corporate culture that creates such a virtuous circle is what is important. Therefore, we have implemented a wide range of measures, such as creating a system that creates two-way communications within divisions and with other divisions and actively dispatching employees to external research organizations and overseas locations.
Indicators
Human Resource Development
| Indicator | Scope | Unit | FY2015 | FY2016 | FY2017 | FY2018 |
| --- | --- | --- | --- | --- | --- | --- |
| Average training and development hours per full-time employee | non-consolidated | Hours | 10 | 10 | 11 | 11 |
Activities
We aim to create an organization in which diverse human resources can work together and enjoy the challenge of innovation to realize corporate vision in 2030. To this end, we are promoting the following new measures while maintaining the current framework of our professional qualification system.
Establishment of the "Ideal Human Resource Portfolio" and Human Resource Development Policy
Introduction of career support programs that encourage individuals to take on "challenges"
Development of human resources with management capability, business creativity and global competitiveness, and enhancement of measures to foster them at an early stage
Fair Personnel Evaluation
We have positioned dialogue as a means of communication to overcome conflicts and cooperation by freely communicating with each other, and we are striving to improve the quality and speed of business through the management of objectives for each fiscal year.
In addition to this target management, our evaluation system is designed to enable employees to develop their strengths and demonstrate their personality through two-way communication between themselves and their superiors so that "self-independent individual" realizes how one wants it to be, thereby enabling them to work with enthusiasm while realizing growth. We are enhancing transparency and employees' satisfaction, and strive to fairly evaluate personnel according to results and contributions.
The final evaluation for each fiscal year is fed back by the Personnel Department to the department, the secondary evaluators, the primary evaluators, and the employees under the four objectives of 1) to motivate them to take on challenges, 2) to improve their satisfaction, 3) to foster a sense of human resource development among their superiors, and 4) to clarify their capabilities development goals.
In the annual evaluator training, employees are trained in practical methods of evaluating, communicating, and putting those methods into practice, with the objectives of 1) understanding the role and significance of the evaluation in the personnel system, and 2) creating a system in which the evaluation is appropriately operated as the cornerstone of human resource development, while keeping in mind the basics of evaluations that should be learned by evaluators.
Training and Capability Development
Educational Training System

List of training programs (implemented in FY2018)
| Name | Content | Number of trainees | Period |
| --- | --- | --- | --- |
| New employee training | Improvement of communication skills / Career training | 46 | 21days |
| New employee follow up training | Improvement of communication skills / Cultivation of stress management skills | 46 | 2days |
| Second year self-start training | Presentation of assigned research papers | 39 | 1day |
| Third year self-start training | Presentation of assigned research papers | 41 | 2days |
| C2 kick-off training | Development of junior leadership / Career education | 41 | 2days |
| Training before promotion to C3 class / Managerial position | Developing the capability of setting essential challenges and the capability of formulating strategies | 71 | 6days |
| Training before promotion to A3 class | Development of leadership | 14 | 4days |
| Evaluator training | Improvement of evaluation skills | 33 | 1day |
| Domestic and overseas study program | Development of next-generation leaders | 1 | - |
| Overseas language study program | Development of globally competitive human resources | 5 | 90days |
| E-mail writing training | Improvement of skills in writing e-mail in English | 59 | 1day |
| Correspondence course | Improvement of business execution capability | 614cases | - |
Self-start training
For the purpose of building a foundation for self-starting human resources who think "Whatever I have to do I will think about it and do it myself", after joining the Company, "planning proposals with originality and their implementation" is worked on during first two years by the technical employees and during first three years by clerical employees. Through their training, each person will have a work implementation mentor (mainly seniors) and a work implementation supervisor (mainly superiors) who will continue to support them so that they can shape their own thoughts. In addition, senior employees from other departments related to the theme of the person undergoing training became advisors. Employees from different departments work together to create a single proposal.
At the end of each fiscal year, one's own efforts will be summarized in a paper, and people with different specialties will join together to hold a discussion session. Through active discussion, it serves as an opportunity in which participants can gain new awareness.
Inter-divisional training can be said to be the driving force for new value creation. The ideas proposed by the young employees participating in this training are actually often adopted and used in later work.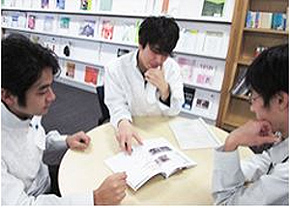 Overseas language study program
In order to work with people with diverse backgrounds, we believe it is important to understand not only language but also the cultural backgrounds of others as well as their ideas in order to understand each other.
Therefore, we have introduced an overseas language study program in order for employees to experience different cultures and get them to learn through actual practice.
Each trainee can clearly see signs of growth by continuing to actively communicate although struggling with language barriers, while actually keeping in contact with different cultures.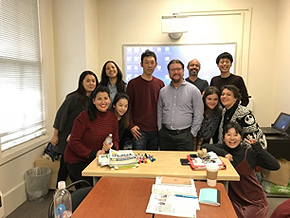 Awards Program
Every year we grant awards to employees who have made beneficial inventions, devised improvement measures, or made remarkable achievements and contributions. Regarding intellectual properties, we also reward excellent inventions selected from among patent-pending inventions at an early stage in an effort to create greater incentive for R&D, discover excellent inventions and improve upon their quality and creativity.
FY2018 Award (Award-winning projects: FY2017)
Name
Presenter
Content
Number of awards
Number of rewarded
Central
Awards
Division
Awards
Office
Awards
President
and CEO
Head of each
division
Head of each
office
Commend employees who have made beneficial inventions, devised improvement measures, or made remarkable achievements and contributions.
0
0
2
0
0
23
Rewards for Excellent Inventions
Officer in charge of Intellectual
Property Department
Reward excellent inventions at an early stage to promote the improvement of R&D capabilities. Rank S rewards are granted to more excellent inventions.
18
(Rank S: 3 inventions)
64