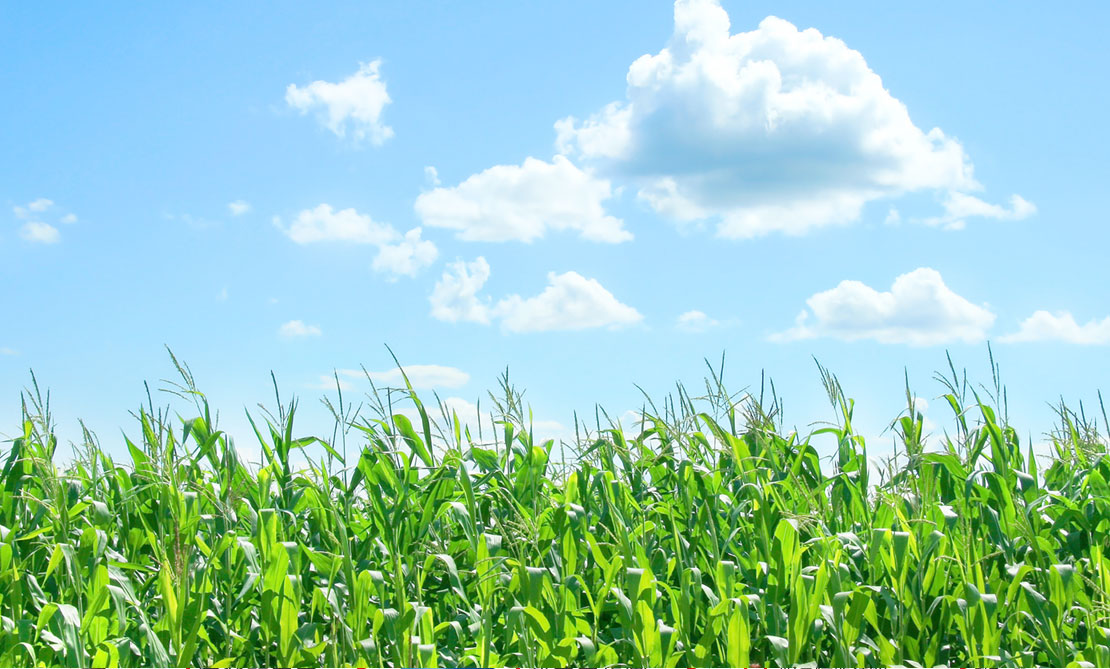 CSR
Communication with Society
HOME >
CSR >
Communication with Society >
Relationships with Employees >
Creation of a Comfortable Workplace
Creation of a Comfortable Workplace
Promotion of Work-Life Balance
We have introduced a wide variety of programs and measures that enable employees to work in a highly productive manner and achieve a good work-life balance. In addition to maintaining the high rate of employees taking annual leave of 70% or more in recent years, we are also aiming to support more efficient ways of working and taking time off. For example, we have decided to implement a new hourly leave system by the end of FY2018.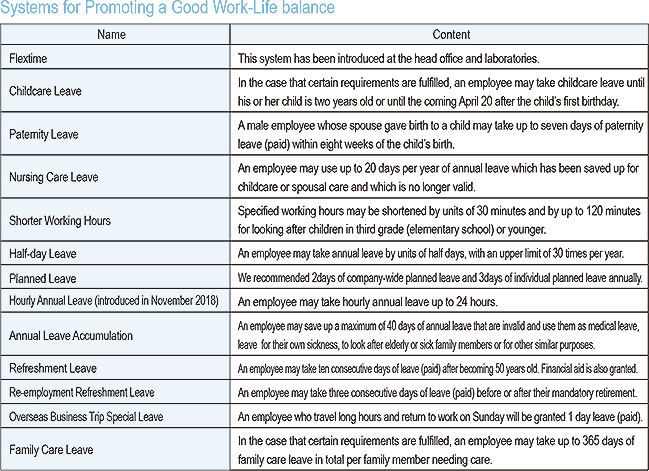 Support Raising Next-Generation Children

Based on the "Act on Advancement of Measures to Support Raising Next-Generation Children", we are working to improve the employment environment and diverse labor conditions so that employees can fully demonstrate their capabilities while balancing childcare and work. We also encourage male employees to participate in childcare by providing paid paternity leave. In recognition of these initiatives, we were granted Next Generation Accreditation Mark (as known as Kurumin) by the Tokyo Labour Bureau of the Ministry of Health, Labour and Welfare, as a company who supports childcare well.
Promotion of Appropriate Work Hours
Workshop for work hours:
We held workshops to learn about the basics of working hours at meetings of personnel managers and labor union training sessions.
Introduction of new system for work management:
We have introduced a new system that enables timely monitoring and visualization of working hours and remaining annual leave.
Encouraging employees to take annual paid leave:
As a result of labor-management consultations, we recommend that two days of company-wide planned leave and three days of individually planned leave are taken every year. An annual paid leave calendar is created at each workplace. In addition, for employees who have taken very few days of paid leave, the Personnel Department contacts the superiors of such employees and encourages them to take paid leave.
No Overtime Day:
This program is implemented at our head office and plants. No Overtime Day is set at each business location based on its own conditions. Measures including patrols are taken so that the program will not be a mere façade.
Countermeasures against Harassment
The revised Act on Securing, Etc. of Equal Opportunity and Treatment between Men and Women in Employment and the revised Act on Childcare Leave, Caregiver Leave and Other Measures for the Welfare of Workers Caring for Children or Other Family Members came into full effect on January 1, 2017. These laws make it mandatory for employers to take measures for preventing harassment by superiors or co-workers related to pregnancy, childbirth, childcare leave, family care leave and similar events.
Countermeasures against harassment related to pregnancy, childbirth, childcare leave, family care leave, etc., sexual harassment and power harassment
Three types of harassment are subject to disciplinary action in our rule of employment.
We post explanatory materials and consultation services on our intranet to enable employees to access and consult with us at any time.
Since 2013, we have introduced training for obtaining basic knowledge on power harassment as part of the training before promotion to A3 class (positions equivalent to team leaders at plant). More than 100 employees have undergone this training.
Health
We have promoted mental and physical health initiatives based on the belief that employees' health is a "foundation that supports sound corporate growth". In 2018, we have established a Basic Health Policy with the aim of maintaining and improving the health of our employees. Concretely, we are implementing measures for lifestyle-related diseases, mental health care, and quitting smoking to promote the health of our employees in cooperation with the health insurance association.
Basic Health Policy
Mental and physical health is a foundation that supports sound corporate growth from the viewpoint of the happiness of employees and their families, as well as the trust of the corporate and the smooth operation of the business. We and our employees will work together to promote initiatives aimed at maintaining and promoting health in a multifaceted manner and aim to be a dynamic company.
Employees' health is based on their own management and we will provide support.
We will implement effective and flexible measures through smooth internal and external cooperation.
We will ensure the proper use and management of personal information and comply with laws and regulations.
Specific measures for health promotion of employees
2018 Certified Health and Productivity Management Organization Recognition Program (White 500)
In February 2018, we have been recognized under the "2018 Certified Health and Productivity Management Organization Recognition Program (White 500)※"for two consecutive years.
A program for recognizing "health and productivity management" initiatives with which employee health management is considered from the viewpoint of business administration and put into practice strategically.
Regular Health Checkups
We encourage employees to undergo regular health checkups by targeting a rate of 100%. We achieved the target rate of 100% in FY2017 (Note).
Note: Employees on temporary retirement, etc. are excluded.
Mental Health Measures
We carry out a stress check, analyze its results and give feedback, and provide Line-Care※1 and Self-Care※2 Training as necessary.

Stress check (September 2017): Undergone by 100% of all employees
Organizational analysis of stress check and reporting session: A total twelve reporting sessions were held for executives at the head office, laboratories, and plants. The analysis and holding of reporting sessions were outsourced to an external specialty company.
Training: Self-Care Training was provided four times to new employees and those who had never undergone the training.
1 Care provided by manager / supervisor. It includes understanding and improving the work environment daily and providing consultations to subordinates.
2 Care that can be provided to oneself. It includes being aware of one's own stress and preventing or coping with stress.
Health Promotion Committee
The members of this committee are selected from the Company, the Nissan Chemical Health Insurance Association, and the Nissan Chemical Labor Union, two from each, and meet regularly to discuss health promotion measures. The committee met four times in FY2017.
Prevention of Sever Disease
We are reinforcing guidance for the preparatory group for diabetes and specific health guidance in cooperation with Nissan Chemical Health Insurance Association.
Employees Benefits
We have introduced following employees' benefits programs to support their lives.
Asset formation:
Employee Shareholders Association (with financial support),
Defined-contribution pension matching contributions, Asset-building savings
Health support:
Health checkup support (health insurance), Supports gym discount, Support for club activity
Support for self-development:
Subsidy for half of correspondence courses, Free of charge for e-learning courses
Nursing care and childcare support:
Discount of nursing care products and Baby-sitter discount
Housing:
Housing allowance, Company housing, Dormitory for single employees