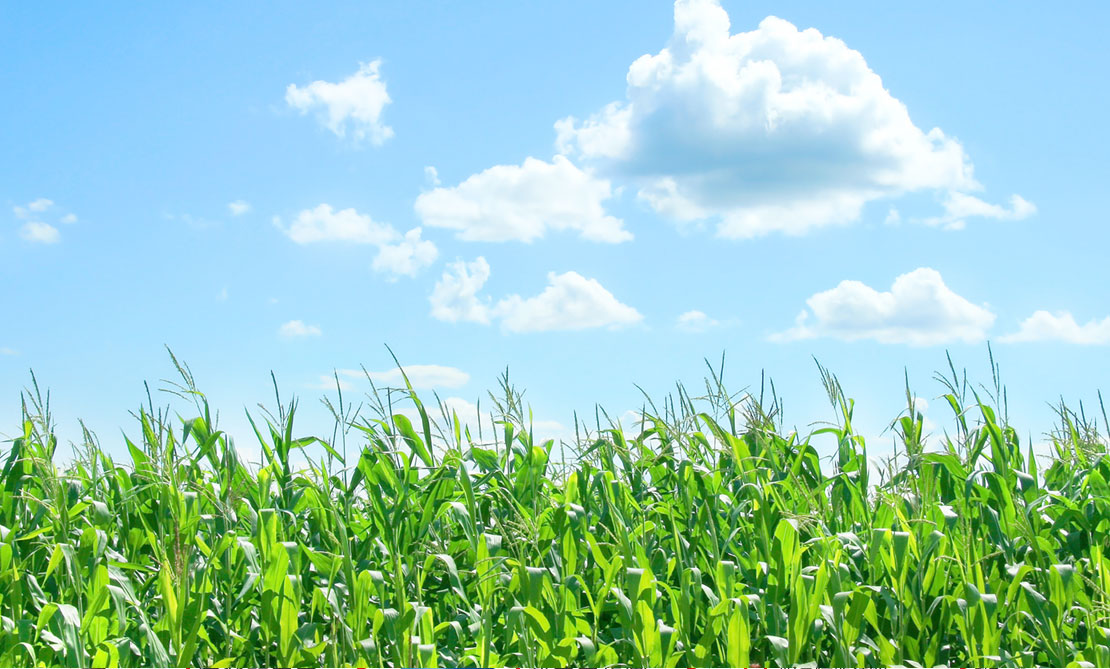 CSR
Communication with Society
Relationships with Customers
Quality Policy and Quality Targets
Our quality policy is "Providing products and services that satisfy customers." Under this policy, we set mid-term quality targets and implement yearly schedules along with the PDCA cycle in an ongoing effort to improve our management system and operations every year.
Moving forward, we will continue to improve our capability of meeting market needs that are becoming more diverse and complex. We will thereby develop ourselves further as a company that contributes to society.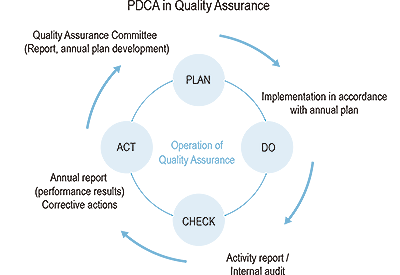 Quality Policy
"Providing products and services that satisfy customers"
Quality Targets (for Achieving the Quality Policy)
Quality assurance in all processes, from design and development to production, shipment, distribution, and delivery
Taking corrective and preventive measures to address quality abnormalities and problems
Strengthening supply chain management linked to business strategies
TOPICS : Awarded by MSD as the Best Overall External Site
We provide Merck Animal Health with Fluralaner, an active ingredient of BRAVECTO®, which is a global veterinary pharmaceutical. In 2016, we won the "Best Overall External Site 2016", an award granted by the parent company of MSD to companies that ensure a stable supply of high-quality products including pharmaceuticals, and which have contributed to an increase in the profits of MSD.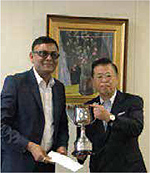 Quality Assurance Management System
Our quality assurance management system is based on ISO9001 (QMS)※. Our plants have obtained ISO9001 certification. They each maintain and update their certification through the certifying body. They are also proceeding with revisions to the year 2015 version.
We have established an Environment, Safety & Quality Assurance Committee that promotes quality assurance activities. It is chaired by the Officer responsible for the Environment, Safety & Quality Assurance Department. It consists of the heads of all business divisions, Advanced Materials & Planning Department, Purchasing Department, Corporate Planning Department, Personnel Department, Production Technology Department, Environment, Safety & Quality Assurance Department, all the plants / laboratories. The committee meets regularly once a year.
The matters reported during the committee meetings are the results of activities, audits, improvements made in response to audit results, information about complaints, and improvements made in response to the complaints at Nissan Chemical and affiliates in the fiscal year under review. The members also discuss action policies related to quality assurance and other items for the following fiscal year. The results of the discussions are resolved at board meeting before the quality targets for the following fiscal year are determined.
An international standard on quality management systems
Quality Assurance Activities at Each Stage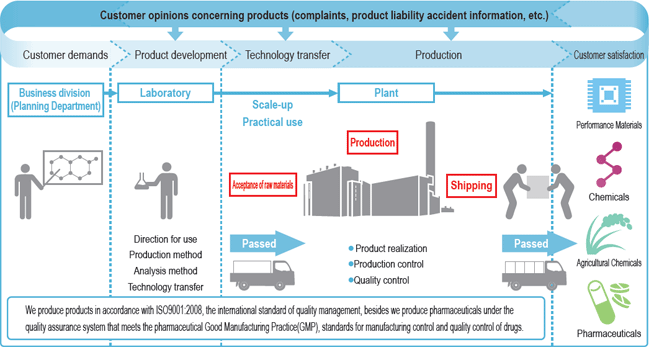 Responding to Customer Needs
We have a corporate network that requires us to promptly collect customer opinions concerning products (including complaints and product liability accident information), evaluate them, and take corrective action if necessary.
We have reduced by half the number of complaints about leakage, foreign substances and containers, which were the highest in number in the last three years. We have also checked the effectiveness of the measures that we implemented. Complaints in fields related to distribution -- that is, quantity, labeling, and delivery -- have been on an upward trend, so we have decided to conduct auditing and provide intensive guidance about these processes.