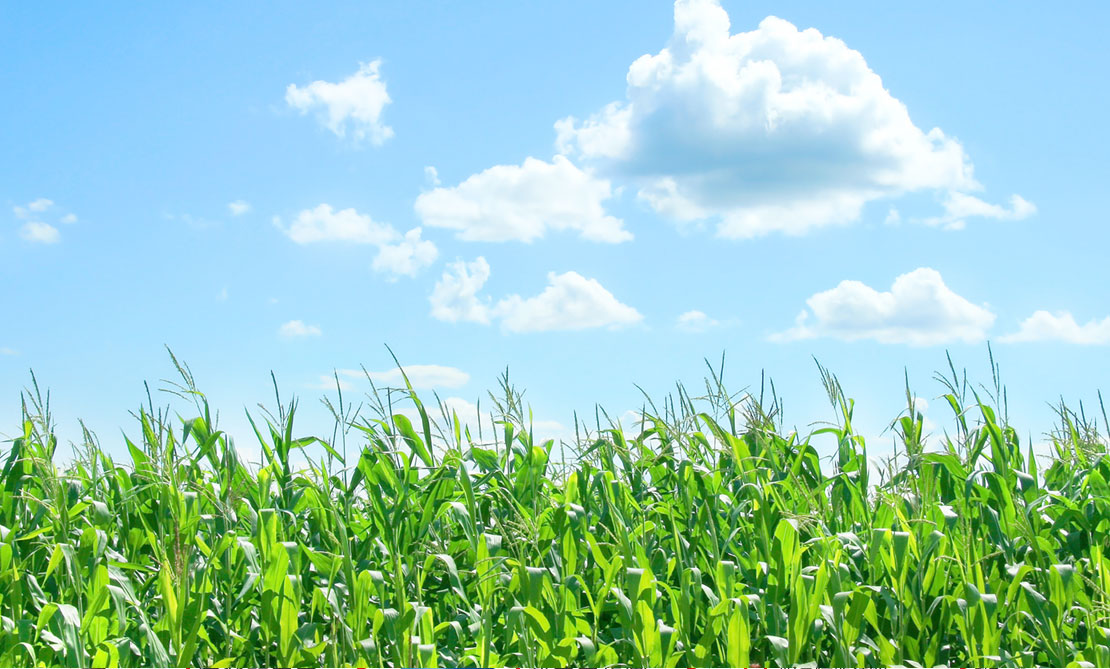 HOME >
Corporate Governance
Corporate Governance
1.Basic Views on Corporate Governance
We think of corporate governance as a mechanism that ensures sound, efficient management to provide stakeholders with sustainable, medium- to long-term profits. Based on this idea, we strive to ensure management decisions are made promptly, and work to clarify the management responsibility and responsibility for executing operations. At the same time, we take initiatives for strengthening the management's monitoring function, compliance, risk management, and internal control system under our board meeting and board of corporate auditors, whose members include highly independent outside officers.
2.Our Corporate Governance System
Execution and supervision of operations
We clarify the management's function of prompt decision-making and supervision and the function of executing operations, thereby strengthening both. We also strive to improve management's capabilities to develop and execute our management strategies. In addition, we have set a one-year term for each director and executive officer, thereby clarifying the management responsibility and the responsibility for executing operations.
Board Meeting
Our board meets once a month, in principle, to resolve important management matters. It also supervises the execution of operations by directors and executive officers. We ensure that important management matters are determined through careful deliberations at the board meetings or management meetings in our efforts to eliminate or reduce business risks. In addition, the details of decisions made at the management meetings and the results of business executions based on decisions made at the board meetings, etc. are reported to the board meetings to enhance the supervising function of the board meeting. The Company further strives to ensure and improve effectiveness in execution of roles and responsibilities of the Board of Directors by conducting the Effectiveness Evaluation on the overall Board of Directors every fiscal year.
Internal Audit
We have the Internal Audit Department, which conducts fair and independent internal audits in accordance with the Internal Audit Rules ("Nissan Chemical Group Internal Audit Rules"). Business activities are checked by the Finance & Accounting, Legal, Intellectual Property, and Environment, Safety & Quality Assurance Departments, with each applying its respective expertise.
Audit by Corporate Auditors
In accordance with auditing plans formulated by the board of corporate auditors, corporate auditors audit the execution of directors' operation by participating in the board meetings and other important meetings, and by regularly visiting each division / department of the Head Office and plant / laboratory to exchange opinions.
Accounting Audit
We have appointed the Yaesu Audit Company as our accounting auditor. They audit at the end of each fiscal year, and during the fiscal year when necessary.
Support for outside directors and corporate auditors
The Corporate Planning Department supports outside directors by giving them prior explanations of the contents of the agenda and other matters to be discussed at the board meeting, and serves as a contact for inquiries. For outside corporate auditors, we have appointed audit assistants in response to requests from them. Audit assistants are employees who help outside corporate auditors fulfill their duties efficiently and smoothly. They serve as coordinators for holding internal audits, board of corporate auditors' meeting, and other meetings, help outside corporate auditors conduct audits, and collect and provide information to them.
Relationships between the Company's corporate organizations and internal control, etc.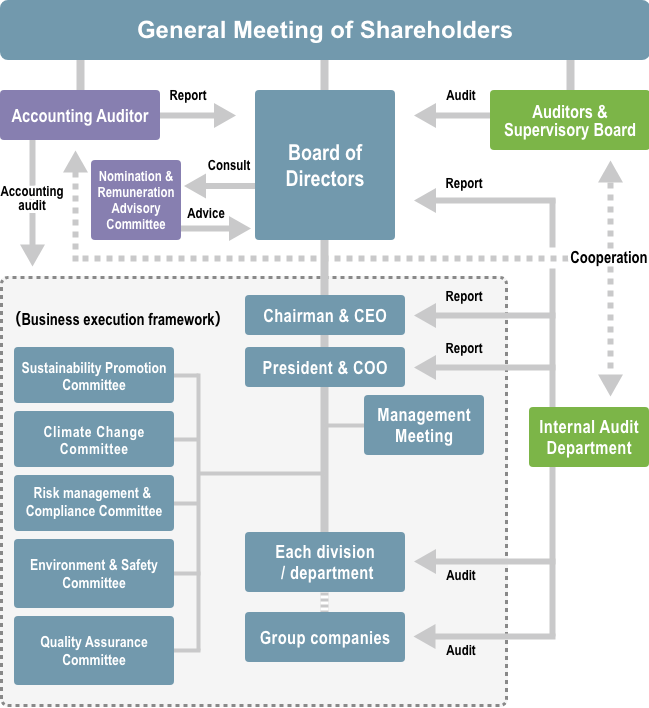 3.Policy and Procedures in the Nomination of Officer Candidates
Decisions regarding the nomination of candidates for directors and corporate auditors are made at board meetings attended by outside directors and proposed at the general shareholders' meeting. In addition, nominations of corporate auditor candidates are approved by the board of corporate auditors in advance.
Policy
Directors
We operate business activities globally in diverse fields, including chemicals, performance materials, agricultural chemicals, and pharmaceuticals. Accordingly, in nominating candidates for our directors, we consider the balance between knowledge, experience, capabilities, and other elements of the overall board of directors and its diversity to ensure that our directors can make decisions regarding the above business activities and supervise the execution of operations in an appropriate and flexible manner.

<Internal Directors>
Human resources who have expertise, knowledge and other capacities in each business field such as corporate planning, personnel, finance & accounting, research and development, production technology, environment, safety & quality assurance and others.

<Outside Directors>
Human resources who are capable of giving opinions proactively, raising questions and giving advice on growth strategies, the enhancement of governance and other issues from the viewpoints of various stakeholders and society.
Corporate Auditors
Human resources with experience and knowledge in a wide range of fields including finance & accounting who are capable of giving opinions and advice to the management from a fair and neutral standpoint, in addition to auditing the execution of operations.
4.Policy on Determination of Officers' Remuneration
The fundamental principle in the determination of officers' remuneration is to maintain a system of remuneration that is in line with management policy by ensuring that officers contribute to increasing operating performance on a continual basis over the mid- to long-term and toward increasing the overall value of the group, thereby meeting shareholder expectations. At the same time, the basic policy is to set remuneration at an appropriate level, taking into account such factors as the management environment, operating performance and consistency with the treatment of employees.
The remunerations of individual directors are determined at the board meeting attended by outside directors as well within the total amount determined by resolution of the general shareholders' meeting. The remunerations of individual corporate auditors are determined through discussions by the corporate auditors.