Veterinary Pharmaceuticals
HOME >
Veterinary Pharmaceuticals
Overview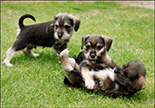 In the process of developmental research of insecticides, Nissan Chemical Corporation invented an external antiparasite drug for animals, and entered the market.
We conduct the entire process from manufacturing to sale of veterinary pharmaceutical substances, and supply the products to pharmaceutical manufacturers.
Main Products
Fluralaner

Fluralaner is a compound with an isoxazoline skeleton invented by Nissan Chemical Corporation It has a new mechanism of action that differs from conventional external antiparasite drugs for animals. It is the active ingredient in the veterinary pharmaceutical "BRAVECTO®" developed by MSD Animal Health (MSD), the global animal health business of Merck & Co., Ltd. It is manufactured by Nissan Chemical Corporation, and supplied to MSD as a veterinary pharmaceutical substance.
Contact Us
Handling division
Agricultural Chemicals Division