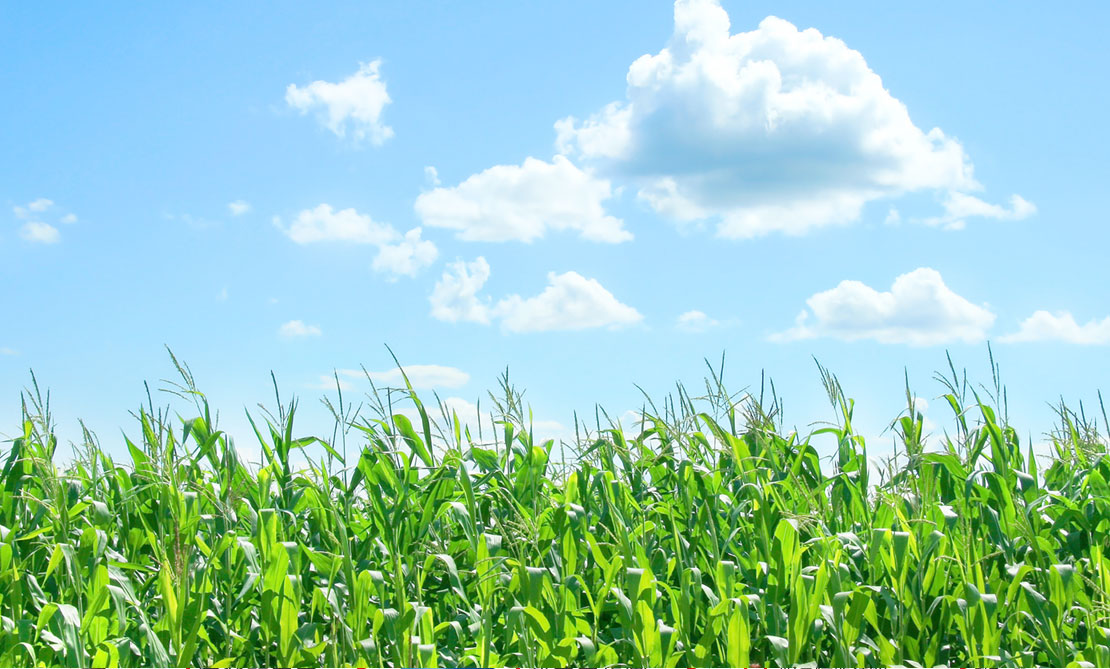 Investor Relations
Information to help investors gain a deeper insight into who we are
Overview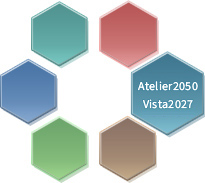 We, as a "Future-Creating Enterprise that responds to social needs with unique, innovative technologies" , contribute to solve social issues such as global warming, energy problems and food shortages.
In April 2016 we launched Progress2030 and Vista 2021, our long-term and medium-term business plan.

Mid-term Business Plan "Vista2021"
1. Review of Stage Ⅰ
Net sales were below target mainly because sales from new products and wholesale operations were less than planned. However, operating profit reached the planned level thanks to growth of active ingredients of veterinary medicines and display materials for photo-alignment IPS.
(1) Net sales and operating Profit (¥billion)
 
FY2018
Actual
(A)
Target
(B)
(A)-(B)
Net Sales
204.9
217.0
-12.1
Operating Profit
37.1
35.0
+2.1
Ordinary Income
39.1
35.6
+3.5
Net Income
29.4
27.1
+2.3
(2) Financial indicators
 
FY2018
 
Actual
Target
OP Margin
18.1%
Above 15%
Achieved
ROE
16.6%
Above 14%
Achieved
R&D expenses / Sales ratios
8.7%
Above 8%
Achieved
Dividend Payout Ratio
41.5%
40%
Achieved
Total Payout Ratio
72.0%
Maintaining 70%
Achieved
2. Outline of Vista 2021 StageⅡ
We set out our ideal situation at FY2021 as a waypoint to achieving our Long-Term Business Plan "Progress 2030." By focusing on solving the issues identified in Stage Ⅰ, we will gain a firm foothold for future initiatives. In light of our top priorities for corporate survival, namely Corporate Governance, Risk Management and Compliance, and the SDGs, we will also earn society's trust by strengthening initiatives to address material issues (materiality).
(1) Ideal Situation at 2021
"Performance Materials" and "Agricultural Chemicals" are driving business results while the next growth engines are being created.
Organizations that enjoy challenges have been realized and diverse human resources demonstrate their abilities to achieve goals.
We contribute to the sustainable development of society through our business activities.
(2) Basic strategies
Increase profitability of products that are sources of growth.
Strengthen ability to create new products.
Improve ability to adapt to social/market changes.
(3) Financial Target (¥billion)
 
FY2021
Target
Net Sales
235.0
Operating Profit
43.0
Ordinary Income
44.0
Net Income
33.0
(4) Financial indicators
 
FY2021
Target
OP Margin
Above 18%
ROE
Above 16%
Dividend Payout Ratio
42.5% in FY2021
45% in FY2020 and FY2021
Total Payout Ratio
72.5% in FY2021
75% in FY2020 and FY2021
(5) Emphasis on ROE
We consider ROE to be the most important management indicator.
We have set ROE of 16% or higher as our target for FY2021 as an important management indicator to measure returns that exceed the cost of capital.
Long-term Business Plan "Progress2030"
1. Outline of "Progress2030"
(1) The company's 2030 vision
A corporate group which provides new values for helping to enrich people's lives by integrating internal and external knowledge with facing globally-changing society
A group of first-class pioneers who blaze a way to the future with enthusiasm by trusts they have built and skills they have cultivated
(2) Business domains
"Information & Communication", "Life Sciences", "Environment & Energy" and "Chemicals & Affiliates" that are based on the five core technologies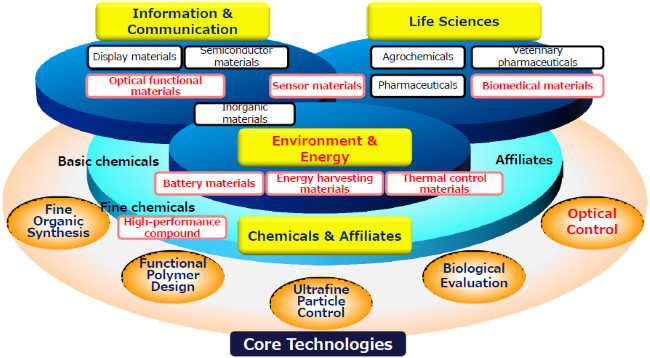 (3) Basic strategies
Entering new fields by evolving, deepening and expanding unique technologies
Information & Communication (display, semiconductor, inorganic, optical functional, and sensor materials)
For display, semiconductor and inorganic materials, we will provide products based on technological innovations in the market. We will also create sensor materials by using our existing technologies and optical functional materials by establishing optical control technologies.
Life Sciences (agrochemicals, veterinary pharmaceuticals, pharmaceuticals and biomedical materials)
We will strengthen the pipeline for agrochemicals and pharmaceuticals, also develop new veterinary pharmaceuticals. In addition, we will create biomedical materials that contribute to advanced medical care using accumulated technologies for biological evaluation and material design.
Environment & Energy (batteries, energy harvesting and thermal control materials)
We will establish a device evaluation technology then supply battery materials and materials that contribute to efficient use of energy.
Chemicals & Affiliates (basic chemicals, fine chemicals, and affiliates)
In addition to responding to business environmental changes, we will introduce high-performance compounds related to TEPIC®, an epoxy compound.
(4) Business size
| | |
| --- | --- |
| Net sales: | 300 billion yen (100 from Information & Communication, 100 from Life Sciences, 50 from Environment & Energy and 50 from Chemicals & Affiliates) |
| Operating profit: | 50 billion yen (operating margin: 16.7%) |