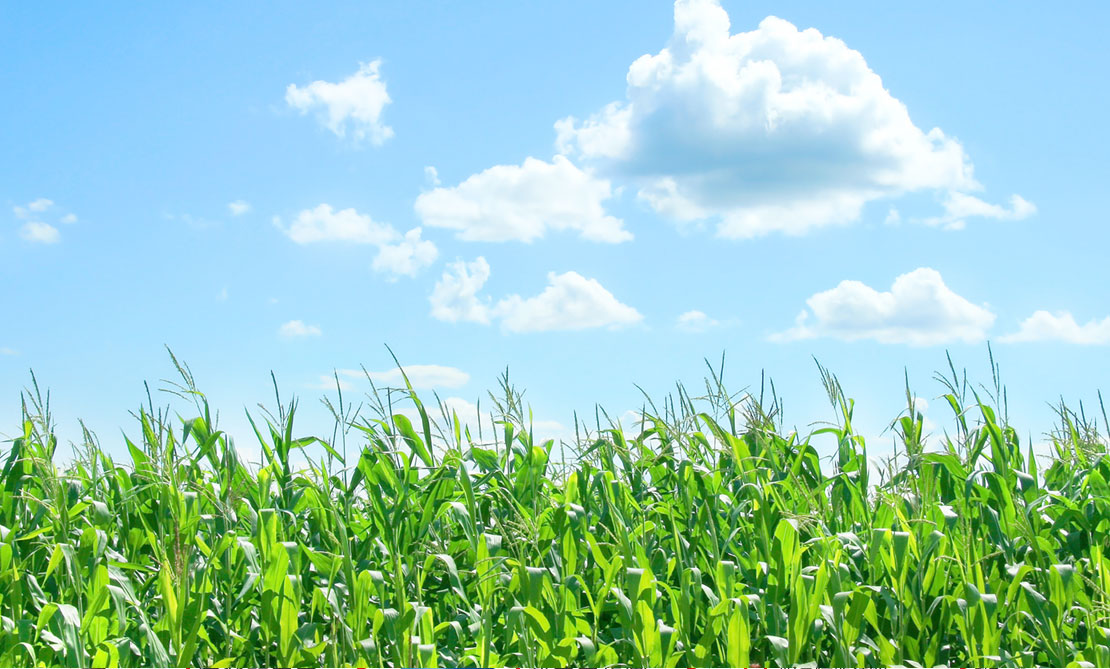 CSR
Responsible Care (RC) Activities
HOME >
CSR >
Responsible Care (RC) Activities >
Environment Safety and Climate Change Strategy >
Amount of Energy Consumption and Energy Consumption Rate
Amount of Energy Consumption and Energy Consumption Rate
Production, Research and Office
In accordance with the "Act on the Rational Use of Energy", we collect data on the amount of energy consumed at all of our business establishments and submit this data to the national government, along with data on our energy consumption rate. Our energy consumption (crude oil equivalent) in FY2017 reduced compared to that of previous fiscal year. We have a product matrix that covers a wide range of products, from commodity chemicals to agrochemicals, pharmaceuticals and functional products for electronic materials. This is why we calculate it not based on simple quantity of production but based on sales. This consumption rate improved from the previous fiscal year by 7.6%. This is attributed mainly to conversion of the fuel from heavy oil and naphtha to natural gas. In FY2018, our head office was relocated to a highly energy-saving-efficient building (PAL / ERR Stage 3).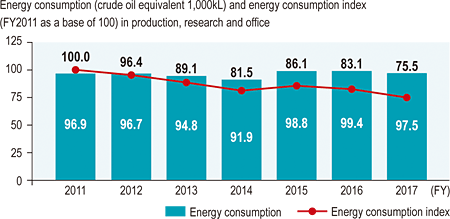 Logistics
As a cargo owner, we work together with Nissan Butsuryu Co., Ltd., a group company which handles our logistics operations, to promote the rational use of energy for transportation. In FY2017, the amount of energy consumption in crude oil equivalent increased from the previous fiscal year. However, the energy consumption rate was improved. We will continue striving to improve our energy consumption rate through measures such as promoting modal shifts, replacing vehicles with energy-saving and practicing eco-driving.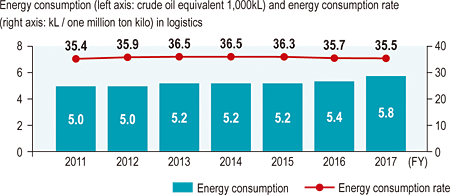 Use of Renewable Energy
The Toyama Plant mainly produces ammonia-based products and performance materials. It makes the plant consume a large amount of purchased electricity in the manufacturing process. This electricity is supplied by electric power corporations and Toyama Kyodo Jikahatsuden Co., Ltd., which was established through investment by companies in the Toyama Prefecture, including the Company. Toyama Kyodo Jikahatsuden Co., Ltd. uses the abundant water from the Jinzu River System to generate hydroelectric power at the Miza / Kuzuyama Power Station in Takayama City, Gifu Prefecture. At the Toyama Plant, purchased electricity generated at these hydroelectric power station is used at approximately one-third of the entire electricity consumption. We will continue to use environmentally friendly natural energy in the future.